Adidas AdiPower CTRL 2.0 2020
Adidas AdiPower CTRL 2.0 is the racket choice of World Padel Tour player Alex Ruiz from Spain. It's an update of last year's bestseller and test winner Adidas AdiPower CTRL 1.9.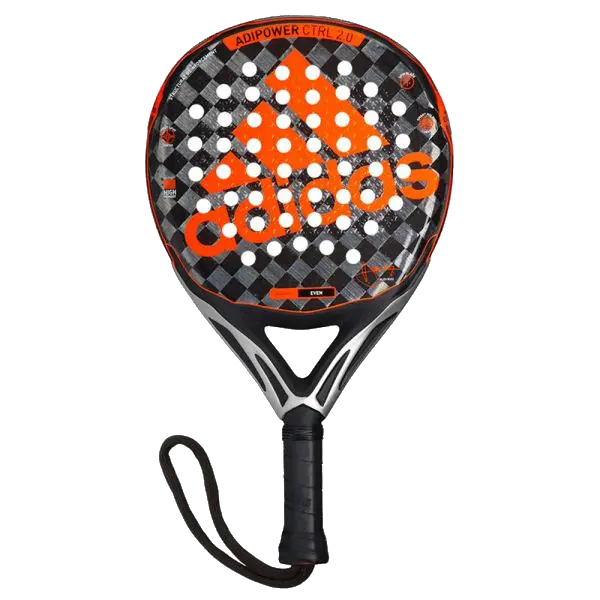 ---
Introduction
The racket has a round shape, medium balance and a large sweet spot located in the center.

Newly developed DUAL EXOSKELETON technology also contributes to even better stability compared to its predecessor.

HIGH MEMORY FOAM core maximizes power in attacking shots. Adidas unique SPIN BLADE technology with a 3D structure on the impact surface and the curved design of the holes maximizes spin.
REVIEW
Adidas AdiPower CTRL 2.0 2020 first impressions
With a clear orange color, glossy finish and the carbon fiber surface, this racket stands out. The racket feels solid and lavish.

Looking closer, we find minor defects in the paint on our racket, and after investigating several other rackets in the AdiPower series it seems to be common. Nothing that will affect the properties of the racket, but still annoying.
Adidas AdiPower CTRL 2.0 2020 on the padel court
The round shape and medium balance make this racket feel lightweight. It offers great control in the defensive gameplay from the back of the court.

At the net, the racket also feels great. The relatively hard core generates good power in volleys and smashes. The sweet spot is relatively large making the AdiPower CTRL 2.0 a forgiving racket and a joy to play with.

The structure of the impact surface works perfectly to add spin and effect.
Overall impression
We are not surprised that top player Alex Ruiz has chosen to play with this model. AdiPower 2.0 CTRL is one of the most well-balanced rackets available right now. The price is high, but well worth it if your budget allows.

Great control, high playability, stylish design, and a solid quality feel make this one of the most complete padel rackets on the market.